Dental Implants – Charleston, SC
The Gold Standard of Replacing Teeth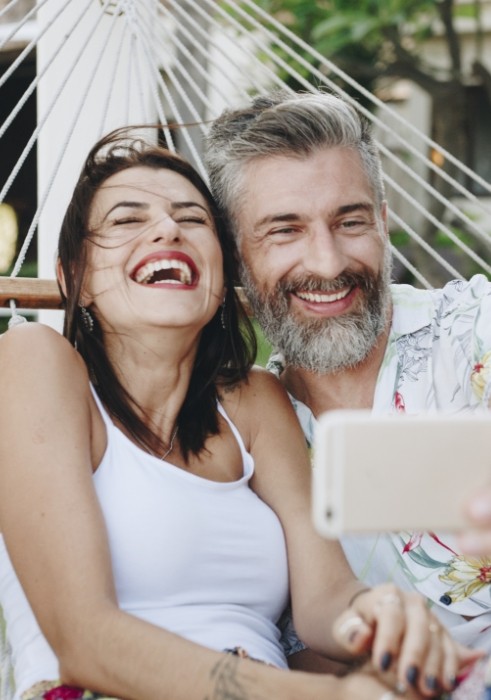 When it comes to tooth replacement, there are few options quite as effective as dental implants. Not only can you feel more confident about the longevity and function of your teeth following implant treatment, but you can expect a smile that looks more natural than ever. Only you and Dr. Church will know that you had your tooth replaced, so don't wait to get started on your future treatment at her dental office by giving her a call today for tooth replacement with dental implants in Charleston, SC!
Why Choose Daniel Island Dentistry for Dental Implants?
Partners with Knowledgeable Specialist for Placement
Powerful Planning Technology In-House
Restorations Made from Incredibly Lifelike Materials
What are Dental Implants?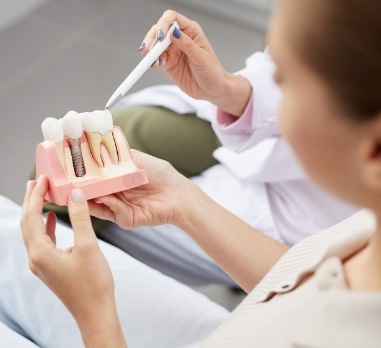 Dental implants consist of two main components. This includes the titanium post that's intended to replace the root and the restoration that attaches to the post via an abutment (or small connector). They are capable of replacing individual teeth as well as multiple consecutive teeth and entire arches at a time, making them an extremely versatile treatment for patients in Daniel Island. As long as you have sufficient bone volume, healthy gum tissue, and good oral health overall, you should be more than eligible to receive treatment!
Benefits of Dental implants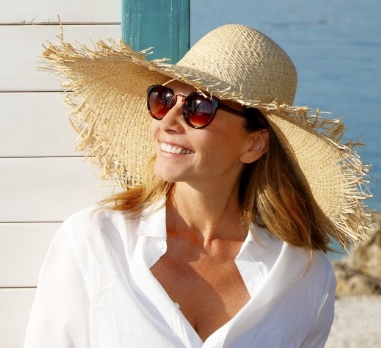 When you choose dental implants over more traditional tooth replacement options, you can expect many benefits that you wouldn't normally receive. For example, dental implants are designed to last as long as 30 years and even longer when they are properly cared for. Furthermore, you can eat your favorite foods with confidence, no matter how tough or chewy they might be. These functional benefits combined with their ability to invigorate your smile and overall facial appearance make them quite the worthwhile investment.
Who Dental Implants Can Help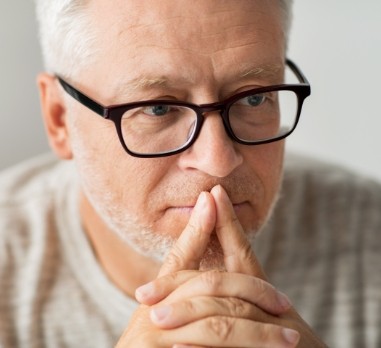 Dental implants are a fantastic option for those looking for tooth replacement options. They can be treatment planned before or after a tooth has been removed, often times, even if its been years since the extraction. Rest assured, with the proper planning you may never have to go with a space and only Dr. Church and your oral surgeon will know you had a tooth removed. Additionally, if you currently use a denture but can't stand how it shifts out of place while in use, a series of dental implants can give significantly improved stability and longevity. Below, you can learn more about the most common situations in which dental implants in Daniel Island are ideal.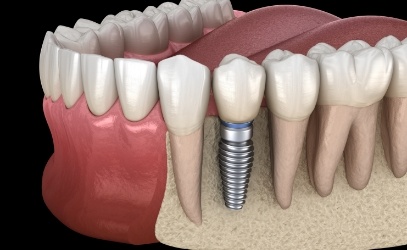 Missing One Tooth
When replacing a single tooth, a dental implant can provide a great alternative to a traditional dental bridge. Once the implant post is placed inside of the jaw and given time to integrate, a restoration customized to blend in with your neighboring teeth can be placed.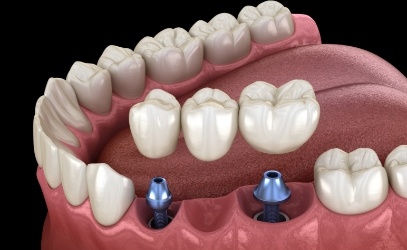 Missing Multiple Teeth
In the event you have multiple consecutive teeth missing or teeth lost on opposite sides of the mouth, dental implants can be used to hold them rather than existing teeth. This means that no modifications to your natural enamel are necessary. In some cases, a single implant has enough strength to hold a two-crown bridge!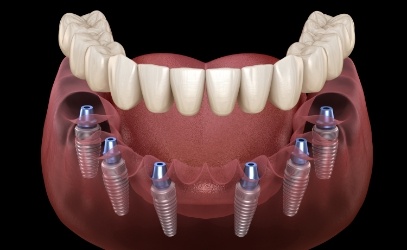 Missing All Teeth
Do you currently rely on a denture, either for your top arch, bottom arch, or both? By placing a handful of implants throughout the jaw, we can attach a denture designed to replace the entire arch, improve stability and longevity of your denture, and enable you to eat the foods you enjoy.
Understanding the Cost of Dental Implants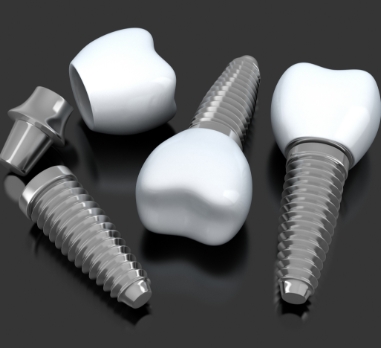 While dental implants do tend to be costly compared to other options, we only recommend them due to their many benefits and cost-effective attributes. Keep in mind that the cost of your treatment in Daniel Island will largely vary based on your specific needs. Thanks to their longevity, ability to break down even the toughest foods, and lifelike appearance, they actually are a fantastic long-term investment for those looking to replace teeth. During your consultation, you'll be given as much information as possible so you can make an educated decision.
Maintaining & Caring for Your Dental Implants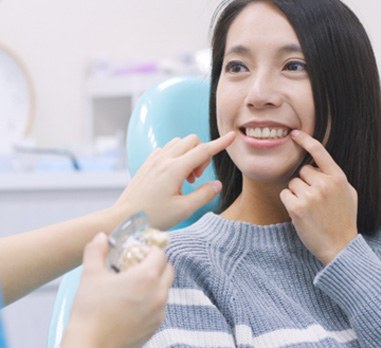 Once you've received your dental implants you'll be able to show off your restored smile for several decades to a lifetime. However, to make the most of your new teeth, you'll have to practice proper care every day. Fortunately, your restorations won't require extravagant treatment to maintain them, as you'll simply have to preserve them as you would your natural teeth. Keep reading to learn five of the best methods to practice dental implant care in Daniel Island!
Make Oral Hygiene a Priority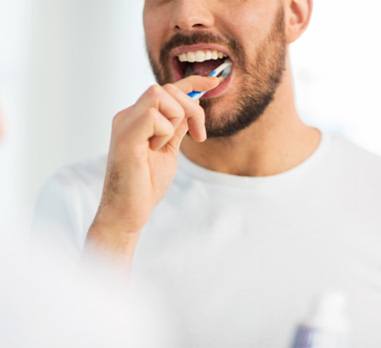 While your titanium posts will not be vulnerable to tooth decay or cavities, it's still important that you brush and floss your smile every day. Doing so will keep your teeth and gums free of debris, food particles, and plaque-causing bacteria that can be detrimental to the success of your dental implants. This is because the most common reason for implant failure is a condition known as peri-implantitis—an infection in the gums caused by poor oral hygiene. Brush twice a day, floss daily, and rinse regularly with mouthwash to preserve your new and improved smile.
Eat a Healthy Diet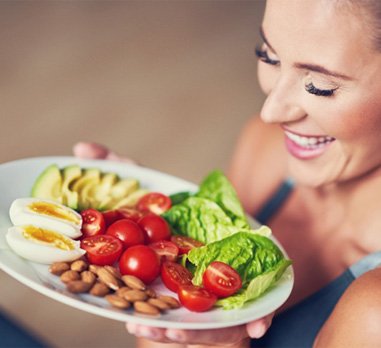 Since your dental implants will restore 80% or more of your biting power, you'll be able to enjoy all your favorite foods without many restrictions. That said, you'll still want to consider maintaining a well-balanced diet that will promote healthy bones and gum tissue. Try to stick to meals that are packed with vitamin C and calcium, as these will help fight against infection as well as strengthen your jawbone to support the implants.
Break Poor Oral Habits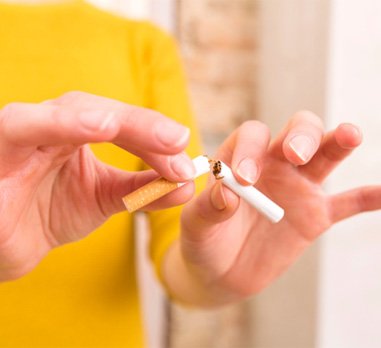 If you've completed your dental implant treatment process, now would be a good time to quit smoking. Not only do tobacco products increase your risk of oral cancer, but they can also drastically decrease your ability to heal, negatively affecting the connective tissue supporting your titanium posts. You will also want to avoid using your teeth as tools as well as biting down on hard objects, such as chewing ice or your fingernails, as these habits can wear down or damage your smile.
Protect Your Dental Implants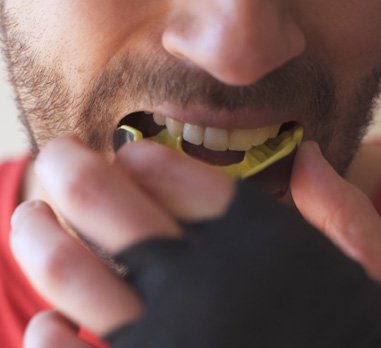 Do you enjoy playing sports where you could potentially take a blow to the face? Do you often grind or clench your teeth at night? If so, then feel free to consult our dental team about nightguards for bruxism and athletic mouthguards. We'll be able to provide you with custom-designed dental appliances to help prevent you from wearing down your enamel and implants while you sleep. We can also recommend the best products to cushion and shield your smile from sudden impacts. This can help you avoid costly restorative treatments as well as the need to replace your dental implants.
Schedule Regular Dental Checkups
By visiting us every six months for checkups and cleanings, we can monitor your oral health as well as the success of your metal posts. Our team can assess your teeth, gums, and jawbone to ensure your implants are supported and in good condition. We'll also address any developing issues we might detect to keep you safe from future oral health concerns, such as decay, gum disease, and infections. Before you leave, we'll thoroughly polish your pearly whites to make them plaque and bacteria-free!
Dental Implant FAQs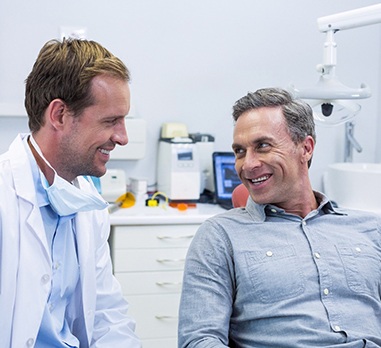 Dental implants in Charleston come with a multitude of benefits, from a 30+ year lifespan to jawbone preservation. So, it's not surprising that 500,000 patients each year choose to restore their smiles with this state-of-the-art tooth-replacement option. Of course, that doesn't mean it isn't normal to have questions on your mind before committing to treatment. If you'd like to learn the answers to a few of the most frequently asked questions before your appointment, then read on!
How Long Do Dental Implants Last?
With proper care, dental implants can last for 30+ years! To ensure they last as long as possible, it's important to implement a solid at-home oral hygiene routine, visit your dentist every six months for a dental checkup and cleaning, and avoid unhealthy dental habits.
How Successful Are Dental Implants?
A major benefit, the success rate of dental implants is over 95%! While this is in part thanks to the skill of the dental professionals placing them, it's also due to the qualification process. For example, patients need to have a commitment to a solid oral hygiene routine and have adequate bone structure. Don't worry – your implant dentist in Charleston will review all of the pre-requisites with you during your initial consultation.
What Can Cause Dental Implants to Fail?
Although relatively rare, it is possible for a dental implant to fail in the short and long-term. Most often, it's the result of peri-implantitis (a form of gum disease) or failed osseointegration. However, teeth grinding, tobacco use, and certain medications are also common culprits.
Can I Get Dental Implants If I Smoke?
Tobacco use won't automatically disqualify you from getting dental implants. With that said, smoking significantly increases your chances of complications, like dry socket. That's why it's recommended that you quit at least two weeks beforehand and refrain from smoking for 2-3 months afterward. Ultimately, this is an ideal time to choose to quit the habit altogether.
Do Dental Implants Decay?
In short, the answer is "no." Since dental implants aren't made of enamel, they are impervious to cavities. Of course, that doesn't mean you don't have to brush or floss anymore. Your gums can still become infected, and your natural teeth can still decay. Therefore, it's of the utmost importance that you continue to practice good oral hygiene.
Is There Anything I Shouldn't Eat with Dental Implants?
Immediately following the procedure, you'll be asked to stick to a soft foods diet. Applesauce, yogurt, oatmeal, and soup are all dentist-approved and shouldn't irritate the implant site. Once the healing period is over and your dental implant is securely in place, you'll be able to enjoy a much more varied diet once more. However, it's still a good idea to exercise caution with extremely hard, sticky, and chewy foods.