Porcelain Veneers – Charleston, SC
Kiss the Flaws in Your Smile Goodbye!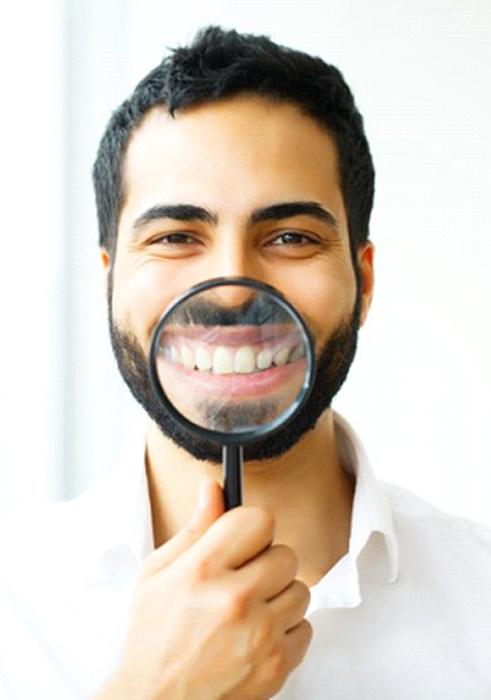 When you look in the mirror or at a picture of yourself, do you naturally fixate on the little imperfections in your teeth? If these flaws in your teeth are making it impossible for you to find the confidence to smile in front of others, you may have considered cosmetic dentistry. There's just one problem – your teeth have so many stains, chips, and gaps that you don't even know where to start fixing them. That's why we're proud to offer porcelain veneers in Charleston, SC as a way of helping you kiss the flaws in your smile goodbye! Contact our team at Daniel Island Dentistry today to find out how porcelain veneers can give you a smile you can't wait to show off!
Why Choose Daniel Island Dentistry for Porcelain Veneers?
Preview Your Results with Virtual Smile Design Technology
Dentist with Advanced Training in Cosmetics
Caring Dental Team That Listens to Your Needs
What Are Porcelain Veneers?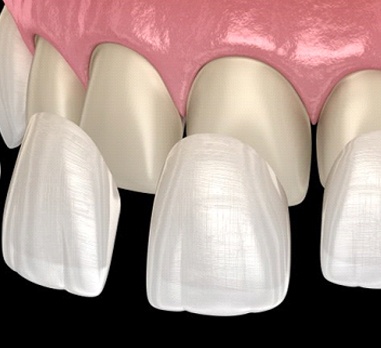 A veneer is a thin shell designed to fit seamlessly over the front surface of a tooth, effectively erasing all of its imperfections at the same time. While veneers can be made from various materials, Dr. Church prefers dental porcelain due to its impressive ability to mimic real tooth enamel. It even reflects light in the exact same way! Because each veneer is custom-made to complement the size, shape, and color of your smile, your results will look effortlessly natural.
The Benefits of Porcelain Veneers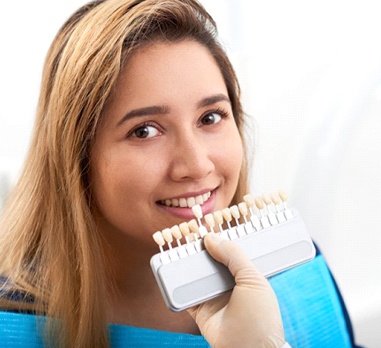 It shouldn't come as a surprise that veneers are one of our most popular cosmetic services here at Daniel Island Dentistry. After all, they provide countless benefits, including:
Versatility – Since they cover the entire front section of the tooth, veneers can address virtually all cosmetic imperfections, including chips, cracks, discoloration, gaps, and even slightly crooked teeth.
Confidence – By concealing your problem teeth with veneers, you won't have to deal with flaws in your smile holding you back any longer.
Personalized results – Every veneer is custom-made to blend in with your natural smile and facial features.
Durability – Porcelain is actually quite strong; if you take good care of your dental health, you can expect your veneers to last for 10 or even 20 years.
Convenience – All it takes is just two appointments to fully transform your smile with veneers.
The Process of Getting Porcelain Veneers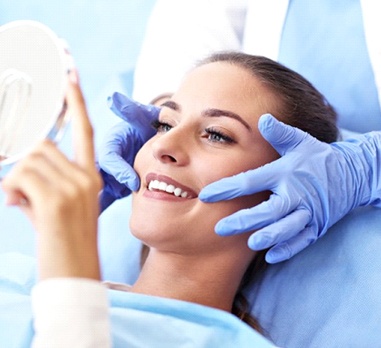 As a skilled cosmetic dentist in Charleston, Dr. Church can complete the veneers process in only two visits to our dental office. The first appointment involves preparation – we shave off an extremely thin layer of enamel to ensure the veneers fit properly on your teeth. We then use digital impression technology to create a 3D model of your smile. The impressions are sent to one of our trusted dental labs, where a team of professional ceramists begin meticulously crafting your veneers to our exact specifications.
We'll place temporary veneers over your teeth in the meantime to protect them. Once your permanent veneers arrive at our dental office in a few weeks, we'll call you back in for your second appointment. All we have to do is make any last-minute adjustments if necessary, cement your veneers into place, and let you start enjoying your new and improved smile!